NThere is one-off payment $25 to be paid by tenant(s) at the end of each tenancy for carpet cleaning fund, except houses without carpet, it is accumulated for the whole house's carpet professionally cleaning.
NO VACANCY


54B Brodie St, Ilam
This modern and spacious home is a stone's throw away from New World supermarket in Peer St, a short walking distance from University, Church Corner and Bush Inn malls.
There are 2 bedrooms downstairs, one is the master bedroom with ensuite, another one is a single bedroom.
Upstairs there is a super double bedroom with gorgeous wardrobe, and 2 other double bedrooms with built-in wardrobe.
Two bedrooms upstairs are available, $150pw and $130pw respectively. The bigger room can take a couple, $180pw.
Rent includes unlimited broadband Internet. Power is shared.
Upstairs there is a bathroom with bath and separate shower, and a separate toilet. There is ample storage upstairs with fabulous sliding doors.
Downstairs there is a separate toilet.
Modern kitchen has dishwasher and rangehood.
The dining area is super big, adjacent to the separate lounge.
There is one nightstore heater in the hallway downstairs, and another one upstairs.
There is a gorgeous fully fenced courtyard, with a good sized paved patio and a small lawn. The dining area, lounge and master bedroom all have separate accesses to the courtyard.
There is automatic double garage.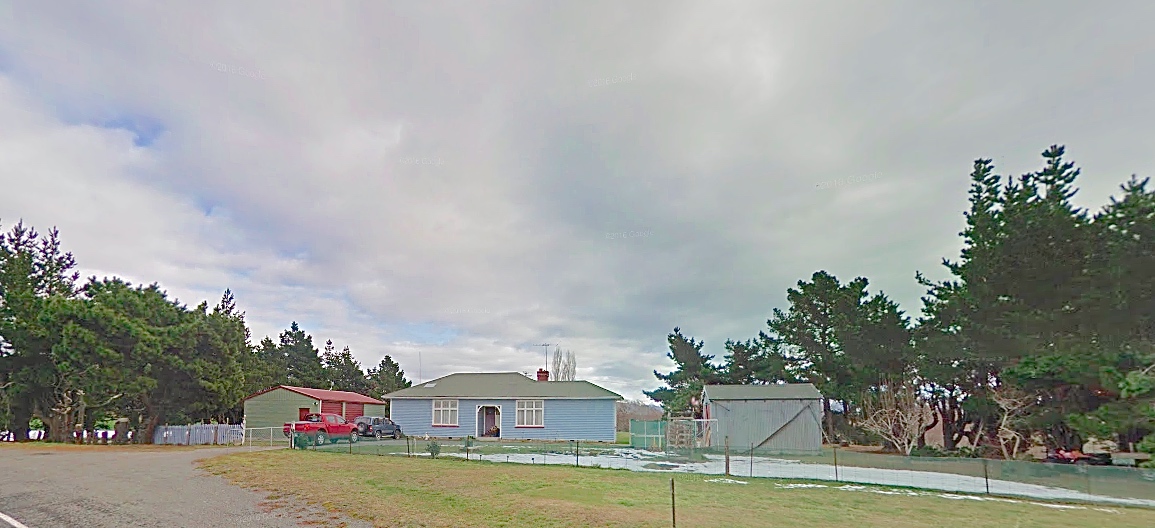 1 Gilberts Rd, Hawarden, Hurunui (North Canterbury)

There are 3 good sized double bedrooms and a separate lounge, plus 1 bedroom newish sleep-out attached to a double garage. Kitchen and dining areas are of decent size.
The house has many beautiful original characters of the 1920s when the house was built, including polished kitchen and dining areas' good quality timber floor, timber walls and wardrobes.
There is bath and shower.
The property is in reasonably good condition, it has been well maintained. Refurbishment inside including all walls painting and new carpet, and outside walls painting will be complete soon.
The land has 2 height levels with a declivity between them on one side and it gradually changes to easy-to-walk slope on other side. There is flat farming land on the lower level for separate farming lease. Altogether land is 1.9374 hectares.
The property has spectacular snow mountains' views in winters.
It has the peaceful and idyllic country lifestyle, and is within 10 minutes drive to Hawarden and Wairaki commercial areas, and 25 minutes to Amberley, less than 1 hour to Christchurch.
It's by state highway, extraordinarily convenient, and very little vehicle travelling sounds can be heard thanks to the strip of land between state highway and Gilberts Rd.
Two bedrooms in the house are available, $90pw, power and Internet are shared.
Photos are here.
NO VACANCY

21A Harry Ell Drive

It is very rare to come across a flatting property of this calibre in the market without property owners living with you.
This fabulous home has break taking bird's eye view of the city. It's such an up-market property, we are looking for long term mature good tenants.
There is a unique cinema room, that is very spacious, with ventilation system and without windows, great for movie nights.

Kitchen is just beautiful, with rangehood and dishwasher.
Spacious lounge with heat pump and FreeView TV.
There is gorgeous balcony and patio outside. Fully fenced, well established garden.
Master bedroom has ensuite. TAKEN
Double bedroom with large wardrobe is available $185pw.
Double bedroom with great balcony, wrap around windows. TAKEN
Rent includes unlimited broadband Internet and gardening. Power is shared.
NO VACANCY
135 Mt Pleasant Rd, Mt Pleasant
It's a pleasant home to join in Mt Pleasant. There is fabulous open ocean view, and view to the other side of the valley.
There are 4 bedrooms, all have morning sun and have more or less ocean view.
Two bedrooms and one bathroom are upstairs, the same as the downstairs.
One bedroom is available which is the master bedroom upstairs, $140pw for one person or $170pw for a couple. It has a beautiful built-in wardrobe, FreeView TV connection.

Rent doesn't include expenses of electricity and Internet. It is about $10 to $15 per week per person, and can be less than $10pw per person when there are 4 or 5 tenants to share.
We keep it maximum 5 people living in the whole house to avoid overcrowding and make sure there is enough hot water.

The good sized lounge is downstairs full of natural light and has amazing ocean and valley views. It opens to a second bigger paved patio.

Next to the lounge the slightly elevated kitchen and dining has beautiful ocean and valley views, and is open to a deck. Kitchen has dishwasher and a breakfast bench.

There is air conditioner and a woodburner in the lounge, the latter one can warm up many parts of the house with very low cost, plus HRV ventilation system, which helps lower winter heating cost and also keeps the house dry and healthy with winter condensation well ridden of.

One automatic single garage has been allocated to the first tenant with car, one car on property parking space is for the next tenant. There is easy off street parking.

There is solar energy panel connected to hot water cylinder, which helps lower the power bill.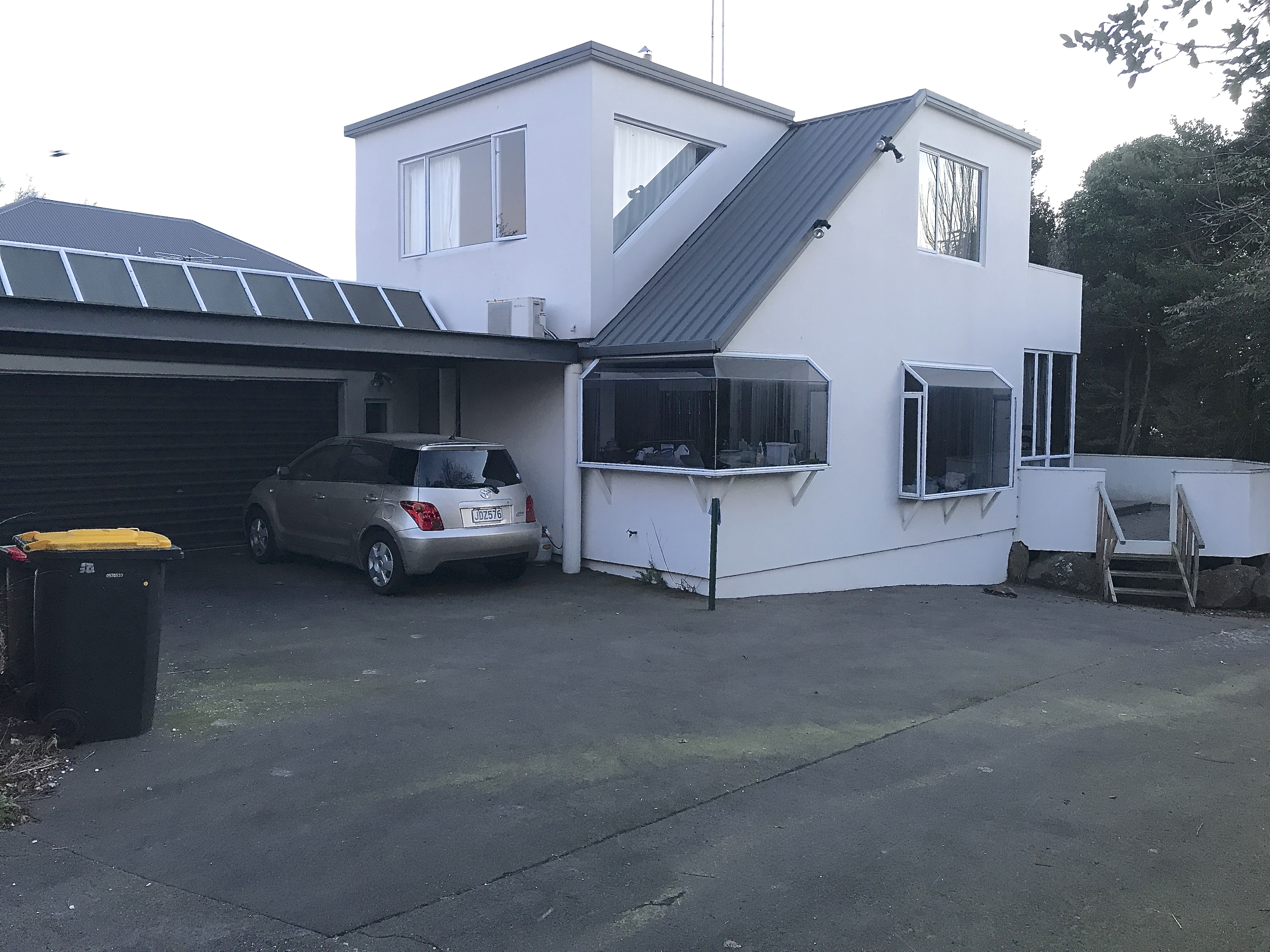 78A Peer St, Upper Riccarton NO VACANCY

This beautiful 5 bedroom 2 storey house has 2 bathrooms, it is at a prime location for students and professionals. New World supermarket is across the road, university is a short stroll away, Bush Inn and Church Corner malls are only several hundred metres walking distance.

The modern kitchen is spacious, it has gas cooking, rangehood and dishwasher.

There are 2 bedrooms, one bathroom and a separate toilet downstairs.

The upstairs has 3 bedrooms, a bathroom that has bath tub, shower and a toilet. The available room is downstairs, good sized double bedroom with big built-in wardrobe, $165pw. Rent includes electricity, gas and internet, electric car charging isn't included. To avoid power overload, bedroom heater needs to be maximum 1.5kW which is adequate to warm up the bedroom.

There is a big double garage, half of it has been allocated to one car with the remaining space for storage only. There is on property parking space in front of the garage and easy off street parking.

The house is in very good conditions. Cleaner does cleaning on communal areas once a month. Tenants are required to keep their bedrooms clean and tidy, and take action to keep away from mould, especially in winter.

There is a shaded garden by the road that has creek running through, it's a great space to chill out along the deck.
$25 one off payment for each tenancy is payable by tenant(s) for carpet cleaning fund that will be accumulated to get whole house carpet professionally cleaned.
57 Rountree St, Ilam / Upper Riccarton
This is superb fully furnished residence for professionals and students. It's only hundreds of metres away from University of Canterbury, Church Corner Mall, Countdown, and minutes drive to Riccarton Mall.
The back part of the house is newish two-storey addition, which has great layout, modern design and double glazing. There is good sized communal living area and b
eautiful spacious kitchen
.
The front part has a fully functioning kitchenette.
Altogether there are 4 bathrooms.
An outdoor deck is great for chilling out.
One downstairs big double bedroom $190pw or $230pw for a couple, one upstairs big double bedroom $245pw for a couple or $210pw for one person. One single bedroom downstairs $175pw.
Rent includes phone line, Internet and communal areas' power. Your bedroom's electricity use is payable by you, there is a power metre for it.
Photos are
here
, more to be added.
Secure Modern Big House Sockburn

This fabulous home has many appealing aspects and excellent furniture and appliances.
It's a secure executive home in a leafy cul-de-sac, very special, with 6 bedrooms and 4 bathrooms, in prime location.
All windows are double glazed aluminium ones. Gas is used for cooking and water heating, you don't need to worry about hot water running out. Gas and electricity are shared.
Four bedrooms 3 bathrooms are upstairs, they are all occupied.
Downstairs one single bedroom is available, $160pw, for female only for convenience reason since female and her daughter are living downstairs.
Rent includes gas, electricity, unlimited broadband Internet and gardening.
Downstairs the kitchen and living area are very spacious.
There is security alarm system, and CCTV with security cameras.
Fully fenced manicured garden is gorgeous, with water feature. The land is 1410m2, giving you quite good size outdoor space for relaxing, and entertainment.
This street is lined with mostly newish modern houses, it's a great neighbourhood to be part of it.
It's a short walking distance to Villa Maria College, Church Corner and Bush Inn. Handy to university and Riccarton Westfield mall.
One-off payment $25 is required at the end of the tenancy for carpet cleaning.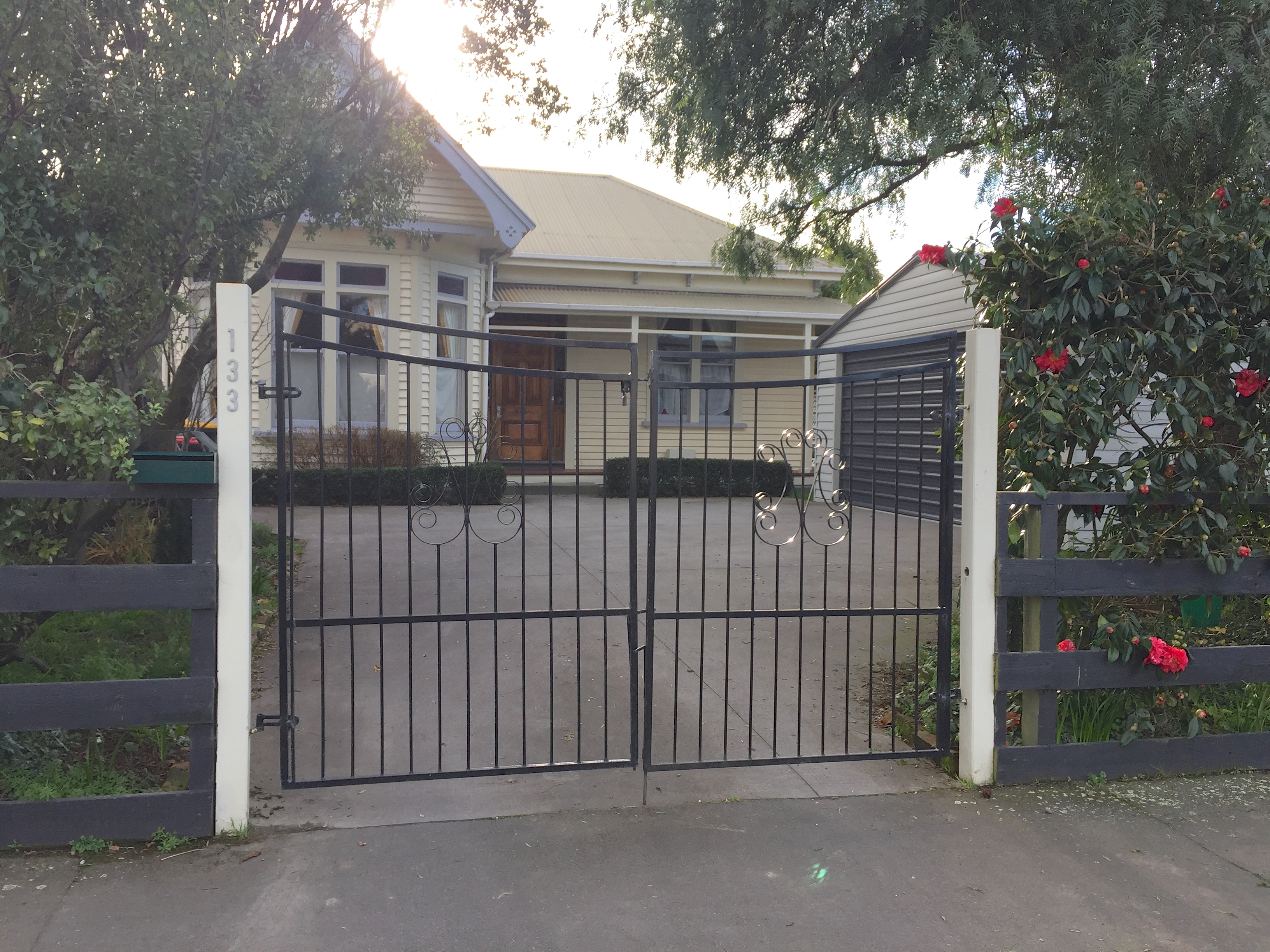 133 Somerfield St, Somerfield NO VACANCY

This home is within a stone's throw distance from the buzzing commercial Colombo St, while having easy street parking for your visitors. You will have on property parking space.
This house has plenty of characters of early 20th century, which is appealing to many people. It has been owner occupied, it's in excellent conditions.
There are 4 bedrooms and 2 bathrooms including one as master bedroom's ensuite.
This available bedroom is joined to a fabulous good sized sunroom, so you have direct access to this sunroom for relaxing.
It uses gas for cooking and water heating. Gas cooking is more convenient for many people especially those who need quick and strong heat. Gas water heating makes sure you have enough hot water all the time.
Kitchen has rangehood.
There is a beautiful extensive deck at the back for chilling out and entertainments.
Rent is $130pw including gas and unlimited broadband Internet. Electricity is shared, April one person's share was just $5.83 per week.
NO VACANCY

76 Ward St, Addington

Thorough renovations on every bit inside of the house except windows were done in February 2014. Whole kitchen, bathroom, toilet, whole flooring including carpet and vinyl, doors, all walls, heat pump and curtains were all re-done.
Fully furnished.
The gardening is done regularly by professional gardener.
One double bedroom is available, $150pw including unlimited broadband Internet, power and gas. Hot water is heated by gas, so there is always enough hot water.